To order your turkey:
In the first instance please contact Dan Cornish
by email:
cornish@cgs-ltd.co.uk
by phone:
07803 180861
or in writing to:
Mr Cornish
Dan Cornish
Ivy Farm
44 High Road
Needham
Harleston
Norfolk
IP20 9LB
Fresh Norfolk Bronze Turkey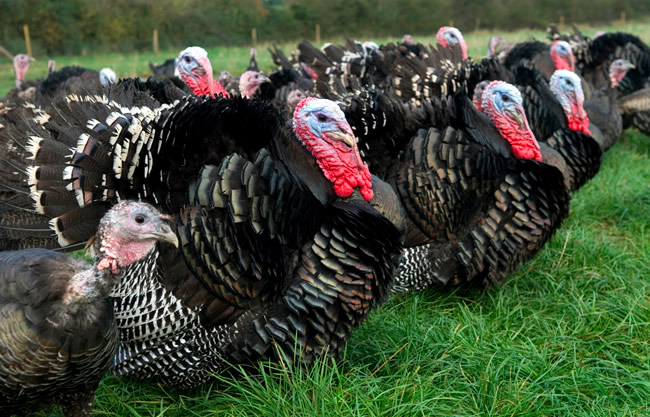 For Christmas
Traditionally produced free range fresh bronze turkeys finished on oats for better flavour. All birds are well hung and hand finished for a superb product.
Available in Small, Medium and Large to suit any Christmas dinner, priced at approximately £13.05 per Kilogram
Small - under 14lb and 6kg - priced from £60.00
Medium - between 14 to 20lb or 6 to 9kg - priced from £80.00
Large - Above 20lb or 9kg - priced from £106.00
Crowns, butterflies and breast rolls are also available.
Fresh Guinea fowl, Ducks, Big Chickens and Geese are available.
Order your fresh bronze turkey from Dan Cornish, delivery to be advised later.
Delivered to Norfolk and Suffolk addresses.
Email Dan at cornish@cgs-ltd.co.uk or phone 07803 180861